Invitations for a Joint Campaigns
received on March 13, 2019
from Kazuo Shiokawa,
VarSITI co-chair
Campaigns


Whole Heliosphere and Planetary Interactions

(WHPI)

Dear colleagues,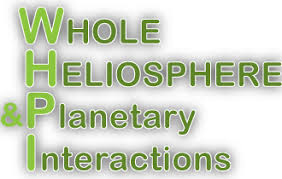 On behalf of the science team of the Whole Heliosphere and Planetary Interactions (WHPI) initiative. I want to draw your attention to the first coordinated observing campaign during the current solar Carrington rotation 2215 (12 March÷8 April), targeting the large coronal hole that is expected to be back on the Sun on Mar 23÷26. The impact on the Earth will be late March - a few days later. For what it's worth the perihelion for Parker Solar Probe will be April 4th. The next campaign will take place during Carrington Rotation 2219 (June 29 ÷ July 26, 2019) and will include the solar eclipse (July 2, 2019).
The WHPI initiative aims to facilitate and encourage interdisciplinary activities focused on solar minimum. The overarching goal is to understand how the Sun's output affects the Heliosphere, Earth, and other planets. Through a series of coordinated observing campaigns and dedicated workshops, observers and modelers get together to discuss, compare, and combine research results.
More information can be found at https://whpi.hao.ucar.edu/
Best Regards,
Carlos Martinis and
the WHPI science team
See the invitations received before 2018 here.