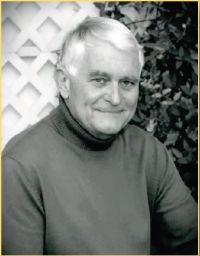 - June 10th 2009
JOHN A. EDDY
Dr. John A. Eddy is a graduate of the U.S. Naval Academy and the University of Colorado who is best known for his work in recovering the history of the Sun and establishing the reality and nature of extended periods of anomalous solar behavior in the distant past, such as the Maunder Minimum of 1645 to 1715. He is known as well for his investigations of the astronomy of early Indians of the American plains; as a scientific editor and popular interpreter of science; and for many years, in promoting the interdisciplinary study of global environmental change. He is a fellow of the American Association for the Advancement of Science and a recipient of the Arctowski Prize of the National Academy of Sciences for pioneering work in solar-terrestrial physics. He now works at the National Solar Observatory in Tucson, where he lives with his wife Barbara.
---
Dear Reader,
The enclosed work represents a loving and dedicated effort on the part of my beloved late husband, John A. Eddy, known to most of us as Jack. With the exception of a few minor administrative details, the book was only just completed, and the final, final version signed off on, when our three-year battle with cancer took him from us on June 10th 2009. And although Jack, sadly, did not get to see the final printed version, all of the words, illustrations, tables, graphs, covers, even the most minor details, were carefully and thoughtfully conceived, written, and edited by him over a multi-year period in our peaceful home office in Tucson, Arizona.
It was Jack's hope and goal to assemble in one place, through this book, concise explanations and descriptions-easily read and readily understood—of what we now know of the chain of events and processes that connect the Sun to the Earth, with especial emphasis on space weather and Sun-Climate. As many know, Jack was extraordinarily gifted at teaching and illustrating and popularizing any subject, but particularly those in the realm of science. I believe he once again shared these gifts with us through his many years of work on this book.
For those of us who were blessed to know Jack, we will surely always remember his kind, gentle, soft-spoken and dignified nature as well as his magical sense of humor. And all will sense these traits within the thoughts and words that he has given us through this book. I am deeply proud and honored to have been his indirect and unspoken partner in this endeavor, as well as his wife, soul-mate, and life partner for nearly twenty years.
Barbara
---
Mrs. John A. Eddy
Tucson, Arizona
July 4th 2009
---